Welcome to worship and fellowship at the Orange Seventh-day Adventist Church, located in the heart of Orange County. Our mission is "to lead people to Jesus, and help them to be totally committed to him." See what our church family is all about, and then come and visit us.

---
Our Vision: Love God, Love Others, Bless the World
Love God: Fall more in love with God through worship
Love Others: Build relationships with others through small groups
Bless the World: Bless others through joining one of our ministries that serve others

An Invitation to Study
Lesson 4 April 18-24
The Call to Discipleship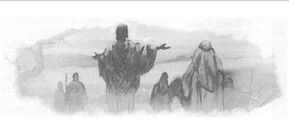 Read for This Week's Study: Luke 5:1-11,6:12-16,9:1-6, Matt. 10:5-15, Luke 10:1-24,Luke 9:23-25, Matt. 16:24-28.
Memory Text: Then He said to them all, If anyone desires to come after Me, let him deny himself, and take up his cross daily, and follow Me (Luke 9:23, NKJV).
Disciple means a follower, or a pupil. The word disciple occurs more than 250 times in the Bible, mostly but not exclusively in the Gospels and Acts.
Being a disciple energizes the spirit, challenges the mind, and demands our utmost in our relationship with God and our fellowmen. Without total allegiance to Christ and the demands of His life and message, there can be no discipleship. What higher calling could one have?
God takes men as they are, and educates them for His service, if they will yield themselves to Him. The Spirit of God, received into the soul, will quicken all its faculties. Under the guidance of the Holy Spirit, the mind that is devoted unreservedly to God develops harmoniously, and is strengthened to comprehend and fulfill the requirements of God. The weak, vacillating character becomes changed to one of strength and steadfastness. Continual devotion establishes so close a relation between Jesus and His disciple that the Christian becomes like Him in mind and character.-Ellen G. White, The Desire of Ages, p. 251.
This week we'll look at how Jesus called those who were to follow Him and see what lesson we can learn that can help us in our continuation of the work that He had started on earth.
*Go to http://ssnet.org/lessons/15b/less04.html to study this week's lesson.
Supplemental Reading

Deuteronomy 11:19
19 Teach them to your children,A)" data-cr="#cen-NIV-5228A"> talking about them when you sit at home and when you walk along the road, when you lie down and when you get up.

Parents can and should interest their children in the varied knowledge found in the sacred pages. But if they would interest their sons and daughters in the word of God, they must be interested in it themselves. They must be familiar with its teachings, and, as God commanded Israel, speak of it, "when thou sittest in thine house, and when thou walkest by the way, when thou liest down, and when thou risest up." Deuteronomy 11:19. Those who desire their children to love and reverence God must talk of His goodness, His majesty, and His power, as revealed in His word and in the works of creation. – {PP 504.2}
Every chapter and every verse of the Bible is a communication from God to men. We should bind its precepts as signs upon our hands and as frontlets between our eyes. If studied and obeyed, it would lead God's people, as the Israelites were led, by the pillar of cloud by day and the pillar of fire by night. – {PP 504.3}