Welcome to worship and fellowship at the Orange Seventh-day Adventist Church, located in the heart of Orange County. Our mission is "to lead people to Jesus, and help them to be totally committed to him." See what our church family is all about, and then come and visit us.

---
Our Vision: Love God, Love Others, Bless the World
Love God: Fall more in love with God through worship
Love Others: Build relationships with others through small groups
Bless the World: Bless others through joining one of our ministries that serve others

An Invitation to Study
Lesson 5 July 25—31
Exiles as Missionaries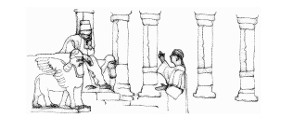 Read for This Week's Study: Daniel 1-12; Isa. 39:5-7; Dan. 2:44; Matt. 24:14-15; Genesis 41.
Memory Text: He was given authority, glory and sovereign power; all nations and peoples of every language worshiped him. His dominion is an everlasting dominion that will not pass away, and his kingdom is one that will never be destroyed (Daniel 7:14, NIV).
As a people of prophecy, Seventh-day Adventists believe in the soon coming of Jesus Christ. His coming will end this world as we know it and ultimately will usher in God's everlasting kingdom, depicted in the book of Daniel this way: The kingdom and dominion, and the greatness of the kingdoms under the whole heaven, shall be given to the people, the saints of the Most High. His kingdom is an everlasting kingdom, and all dominions shall serve and obey Him (Dan. 7:27, NKJV). This kingdom is the culmination of our faith; it is what the book of Hebrews (Heb. 11:16) called the better country, the one that all God's people through the ages have trusted will come, the one whose builder and maker is God (Heb. 11:10).
But the book of Daniel is also a kind of handbook for missionary activity. From it we can draw lessons on how the Lord was able to use some of His people to witness to those who were steeped in spiritual and theological ignorance. Through their faithfulness and diligence and unwavering faith, these believers revealed the reality of the living God to those who knew only false ones and gave these pagans a chance at a place in this everlasting kingdom, as well.
*Go to http://ssnet.org/lessons/15c/less05.html to study this week's lesson.
Supplemental Reading
Let this point be fully settled in every mind: If we accept Christ as a Redeemer, we must accept Him as a Ruler. We cannot have the assurance and perfect confiding trust in Christ as our Saviour until we acknowledge Him as our King and are obedient to His commandments. Thus we evidence our allegiance to God. We have then the genuine ring in our faith, for it is a working faith. It works by love.
-Ellen G. White,
Faith and Works
, p. 16.